---
Do you yearn for activities where you and your child are engaged together equally?
Do you love to move and dance at home?
Want to play with your child in a whole new way with other families?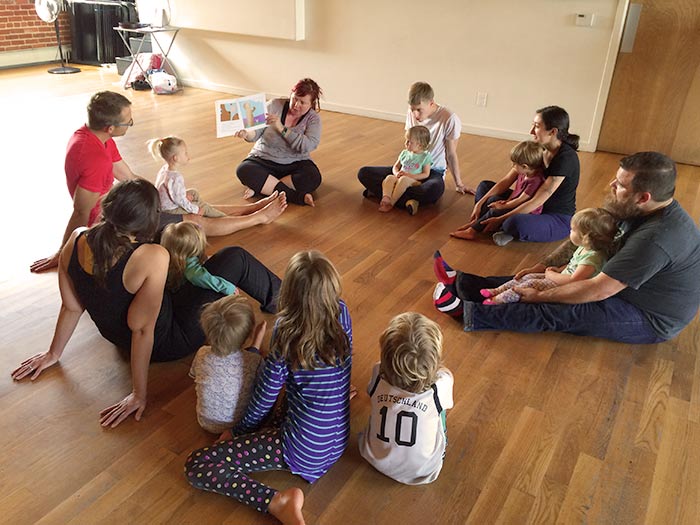 Join Dance With Me (DWM), a new weekly class for children who can walk (16-18 months), up to age 4 years. An adult (parent, guardian, nanny, etc.) is asked to participate with the child. DWM is a fun-filled 45-min class full of creative movement, songs and stories, basic dance movement to engage the the body and mind of your preschool aged child. Dance with Me is perfect for children 3 and 4 years old who still feel more comfortable in a class with an adult participating alongside. And vice versa. With games and exercises, props, songs and music, improv too, April will lovingly lead the way as we play and explore. Based in Creative Movement with a Modern Dance sensibility, DWM offers the opportunity for families to engage with one other in a unique physical way, making deeper connections with each other, and expressing with the body.
April C. Taylor is excited to bring DWM to Alameda. She is currently on faculty at Shawl-Anderson Dance Center and is guest teacher at other schools throughout the Bay Area. April is a loving and fun-filled teacher. She engages all the aspects of learning through play. She encourages an atmosphere of joyful self-expression, basic physical coordination, bonding, and LOVE of moving in everyone. Her philosophy is Dance For All where self-awareness and acceptance are key principles. She created Dance With Me to meet the needs of adult dancers who wanted to move with their young children. If you like to dance and play, then Dance With Me is the place to be!
Find out more:
Facebook
YouTube channel 
YouTube video