"A Night of Calypso" Featuring Jackeline Rago & the Venezuelan Music Project
$
$20 Advance, $25 Day of Show, $12 Kids <12
Join us in celebrating the festive spirit of Carnival. Wear your dancing shoes and enjoy an evening of Venezuelan and Caribbean Calypsos with the Venezuelan Music Project. Special guests include the amazing Chiquy Boom who will be leading the dance steps on and off her stilts! Chiquy will also teach a pre-show dance class so be sure to come early for that and to enjoy delicious Venezuelan Arepas by Ms. Arepita Mobil. All ages are welcome.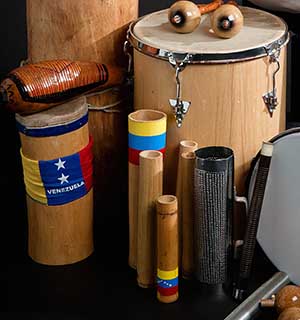 The Venezuelan Music Project (a.k.a. VMP) was founded in the San Francisco Bay Area by musical director Jackeline Rago to share and preserve Venezuela's sounds and cultural traditions. Combining the Indigenous-Venezuelan, West African and Spanish-European influences, VMP performs a wide range of music from folklore-driven songs such as Calypsos, Parrandas, Tamboreras, Sangueos, Golpes de Tambor, Tonadas de Quitiplás, Tambor Redondo, Gaitas, Joropos, Merengues, Fulías and spiritual chants inspired by the daily life of the Venezuelan countryside. Traditional instruments, all made and brought from Venezuela, are presented in VMP's live set, yet the magic of the ensemble would not be possible without its rich vocal textures and the presence of the unique "cuatro" (Venezuela's national instrument that's similar to the Hawaiian ukulele). More contemporary urban dance compositions and arrangements are also part of VMP repertoire complemented by the addition of the electric bass, flute, saxophone and trombone and other instruments performed by special guests. Don't miss this exclusive one-night celebration of traditional Venezuelan and Caribbean music, dance and culture!
This concert made possible in part with funding from the William and Flora Hewlett Foundation and the Zellerbach Family Foundation.
VMP Members
Jackeline Rago: Venezuelan cuatro, vocals, percussion (Musical Director)
Francy Hernandez : vocals
Jimmy Kansau: vocals
Anna Maria Violich: vocals
Omar Ledezma: percussion, vocals
Donna Viscuso: flute, alto sax
Bil Hager: bass
Eli Goldlink: keyboard
Special guests:
Chiquy Boom: dance and stilts performance
Food: "A Taste of Venezuela"
Delicious Venezuelan Arepas by Ms Arepita Mobil.
Gluten-free, grilled pockets hand-made with cornmeal patties, crunchy outside and tasty on the inside stuffed with delicious accompaniments!
Doors open at 7pm. Dance Lesson 8pm, Show 8:30pm.