$
$20 Advance, $25 Day of Show
"Durst Case Scenario" Hits Alameda
Rhythmix Cultural Works Hosts Comic Will Durst Musing on America in the Time of Drumpf
"Durst is at his sly, savvy best. A sharp one-man show." —New York Times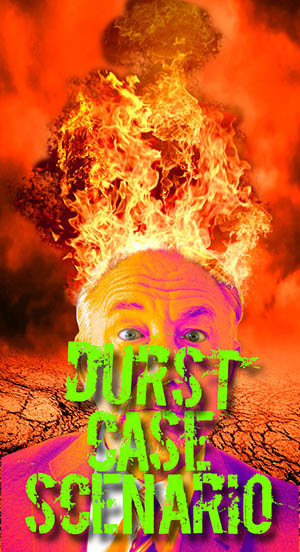 Fresh from the national tour of his award-nominated, hysterical chronicle of the action-packed 2016 election, "Elect to Laugh," comic/columnist/actor/author/former oyster shucker, Will Durst, is excited to present his new solo outing "The Durst Case Scenario," a comedic exploration of a changing America during the Time of Drumpf. It's a rollicking feast of satire as up-to-date as the President's latest 4 am tweet.
In this lightning-paced, 80-minute comedic tour-de-force, Durst, described by the Oregonian as "the thinking man's comic," analyzes where we are, how we got here and what possible destinations lie ahead. He also recounts the wacky, zany antics, palace intrigues and pitfalls of polarization threatening to tear our country apart in this, The New Abnormal. It's incisive and trenchant and profound with jokes. Many funny ones.
The response has been electric. Crowds are streaming into performances searching for their community of like-minded confused souls. Equal parts comedy and therapy. The intrepid Dr. Durst assists audiences in overcoming their PTSD: President Drumpf Stress Disorder, by surgically isolating the farcical. For those who thought they'd never laugh again, this show is for you.
Durst does his bipartisan best to describe our strange new world where danger, intrigue and romance lurk around every corner. Where every day without a mushroom cloud counts as a victory. He details the anxiety of never knowing when the president will strike the flint that shoots a spark to light the fuse to Armageddon. Prepare to meet the funny side of defiance. Because laughter allows room for hope to creep back on the inhale.
Ably assisted by his trusty overhead projector, and blessed with an extraordinary talent to engage an audience with his patented outraged and outrageous common sense, Durst mocks, scoffs and taunts in segments such as Trumpapalooza, the Bright Side of Donald J. Drumpf's Presidency, The Donzi Scheme, Presidential Apprentice and Mike Pence is the Product of Reverse Taxidermy.
The Durst Case Scenario is playful and ludicrous and whimsical and droll and silly and serious and sarcastic and mischievous. Smart and clean and uplifting. A unique theatrical event delivered with decades-honed timing and not less than a modicum of poetry.
See this show before this sort of thing becomes illegal. A portion of each night's proceeds will go to fund a nonprofit whose mission will be to bury wire-cutters along the Canadian border. Will Durst's performances are brought to you by the 1st Amendment to the US Constitution.
This concert is made possible in part with funding from the William and Flora Hewlett Foundation and the Zellerbach Family Foundation.
About Will Durst
Acknowledged by peers and press alike as one of the premier political satirists in the country, Will Durst has patched together a quilt of a career, weaving together columns, books, radio and television commentaries, acting, voice-overs and stand-up into a riotous patchwork of funny comedy humor. The New York Times called him, "quite possibly the best political comedian working in the country today." Author of three books, Durst has told jokes in 16 countries, racked up 800+ television appearances, released five CDs and despite blistering reproach, continues to squeeze ketchup on his bratwurst. More at http://willdurst.com/