COUPLED
Susan Brady and Eben Ostby,
Deborah Sullivan and Charlie Sullivan,
Janet Koike and Ed Holmes
Textile sculpture by Susan Brady, Gargoyle and photo by Eben Ostby, Shelter
Exhibition Dates: January 12 – February 24
Second Friday Opening Reception: Friday, February 9th, 6 – 9 pm
Where: K Gallery at Rhythmix Cultural Works, 2513 Blanding Ave., Alameda
Gallery Hours: Wed 6 pm – 9 pm, for events, and by appointment
Since the world can use more love, K Gallery presents Coupled. From the deeply personal to the astutely political, works in this show question how much our view of the world is influenced by those who we live with. This is the K Gallery's second group showing of married artists, each telling a unique story, utilizing textiles, photography, clay, sculpture or performance. "Sit with us by the campfire" an installation by Janet Koike, offers a firelight setting with road trip imagery, and live music from couple Mike Schiess and Melissa Harmon.
Ginny Parsons, artist and curator of the exhibit explains: "I was inspired to curate a show about artists who are married because of the bravery it takes to make art and stay in love. The first show demonstrated hope and acceptance and after the surreal year we've been through, it felt like we could use a second round of artists in love. Plus, the campfire will be continued, as a beacon of togetherness and a chance for people to unplug and tell stories face to face. And this year, there will be a couple bringing music to the fire."
Parsons hopes this exhibit supports what Norman Lear said, "We will save our world. But, when it is saved, I'm confident that the door will have been kicked open by things that bring us together — the arts."
About the Artists:
Ed Holmes & Janet Koike
Road Trip – A Westfalia camper van, some road music, a nice cup of joe,
Super-8 and Kodachrome, the romance of the road.
Ed has been doodling with photos, films, video, and slapstickers since way back. His EXTREME !! amateur approach has shown up on the walls of the Modem Gallery in Crockett, Men's Art Show in Sausalito, SF Car Art Show, Oakland Library and Art Motel in SF. Ed has curated Veterans Art shows at K Gallery and Bridgehead in Alameda and JAS in Jingletown. His contribution to public art has been slapstuck from here to just about everywhere.
Janet graduated with a BA Art in 1976. In the 80's she created Koike Textiles, a hand printed fabric fashion design business. Janet turned to tap dance then taiko in the 90's, joining San Jose Taiko. In 1999 she formed Rhythmix Ensemble and in 2007 she opened Rhythmix Cultural Works. She has spent the last 10 years trying to figure out how to engage people in the arts. With her presentation of Island City Waterways in 2016, Koike created a multidisciplinary art journey, as a vehicle for the community to experience art together.
Susan Brady & Eben Ostby
Susan has been working in diverse forms of mixed media for the past two decades. She finds materials out in the world, selecting them in a spontaneous way and spending little time deliberating. The materials suggest what the piece will become.
Eben is a photographer who works in a combination of obsolete and current techniques. Much of his work is printed using 19th-century methods, including palladiotype, gum bichromate, and van Dyke prints. He prefers landscapes, street scenes, and still lifes that say something about memory.
Susan and Eben met long ago in architecture school and have been a couple ever since.
Deborah Sullivan & Charlie Sullivan
Deborah has made clay sculptures for a long damn time. She recently started a series of ink paintings and decorative glass. But clay is her favorite. She and Charlie met when they worked at Scotts Seafood in San Francisco. He waited tables and she bartended. They just celebrated 25 years of marriage. She can't believe he's put up with her for so long.
Charlie re-purposes found and discarded items, combining them with lenses and mirrors to create emotionally inspired freestanding sculptures and hangings. Everyday items are rearranged in a playful balance and are built to be viewed in the round to encourage shifting perspectives. In addition to being an artist, Charlie also teaches 5th grade at Otis School.
---
About the K Gallery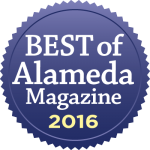 The mission of Rhythmix Cultural Works is to bring people together through culture and the arts. Exhibitions in the K Gallery reflect the vitality of the Bay Area cultural community.
Gallery Hours:
Second Fridays 6 pm–9 pm
Wednesdays 6 pm–9 pm
For events and by appointment
---