Friday, February 27, 2015
Artists' Reception & Auction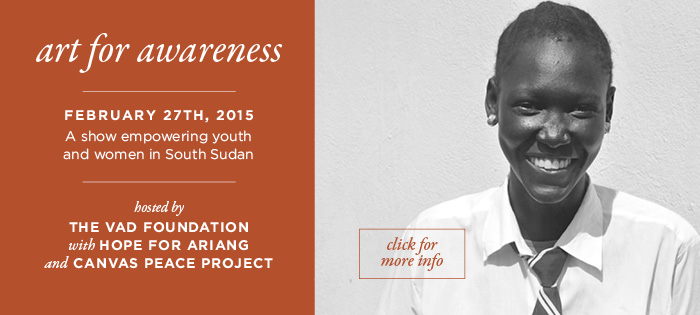 Artists' Reception & Auction: Friday, February 27th, 6:00pm-9:00pm
Art Preview: January 16th-February 27th
Where: K Gallery, Rhythmix Cultural Works, 2513 Blanding Ave, Alameda
Tix & Info:
Carrie
| (415) 550-8840
Note: Due to unforeseen circumstances, Valentino and Dave Eggers will not be appearing at the reception.
VAD Foundation is partnering with HOPE for Araing and the Canvas Peace Project for an evening of awareness and world class art. Join for an full evening including a reception of participating artists and conversation with Lost Boys, Gabriel Deng and Valentino Deng, along with What is the What author Dave Eggers. The night will end with an exiting live auction of all art contributed to benefit education and women's projects in South Sudan.
To become a participating artist, please register at www.canvaspeaceproject.org. All artwork must be submitted by January 9th, 2015. Art Preview (January 16-February 27th) and Event will take place at Rhythmix Cultural Works.
To reserve space at the event or become a sponsor, e-mail Carrie Clements. If you are unable to attend, or know someone who would like to participate but is outside of the Bay Area, all art will be available for bidding online.