Materials: Opening Reception
Monday, September 11, 2017
Artists Working in Wood, Paint, Clay, Junk & Film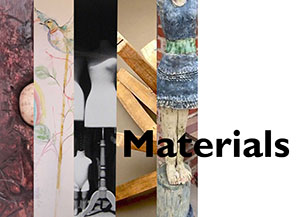 Friday Opening Reception: September 11th, 2015, 6pm-9pm
Exhibition on View: September 11-November 7
Where: The K Gallery at Rhythmix Cultural Works,
2513 Blanding Ave, Alameda 94501
Gallery Hours: Wednesdays 6pm-9pm and by appointment
The K Gallery at Rhythmix presents Materials, a five-person exhibition examining the richness and variety of creative inspiration. East Bay artists Jacqueline Cooper, Susan Parish, Charlie Sullivan, Deborah Sullivan, and Jerome Szymczak each use different media to explore and express ideas about desire, space and movement, identity, repurposing, and narrative. Curated by Ginny Parsons.
Jacqueline Cooper creates paintings that are beautiful and alluring. Graphic and succinct, her work speaks to the innermost passions of human relationships. Cooper has shown in numerous galleries and museum exhibitions. She is the founder of Autobody, a contemporary art gallery in Alameda.
Pictured:
Untitled
Watercolor, ink and pencil
26 in. x 38 in.
2015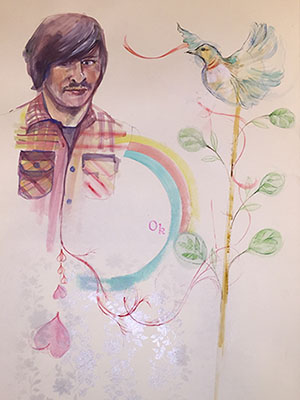 ---
Susan Parish seeks to define space and movement with a vision that is both fresh and historically relevant. Her work has been featured in shows both nationally and internationally. Parish was making sculpture-disguised-as-furniture using recycled wood long before it became popular.
Pictured:
Traveling on the Unknown
Wood staves
37 1/2 in. x 69 in. x 16 in.
2012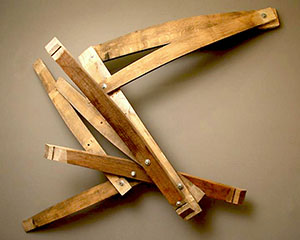 ---
Charlie Sullivan repurposes found and discarded items, combining them with lenses and mirrors to create emotionally inspired freestanding sculptures and hangings. Everyday items are rearranged in a playful balance and are built to be viewed in the round to encourage shifting perspectives. He has lived in Alameda on and off since the early 1980s. Sullivan studied art at San Francisco State University and teaches elementary school in Alameda.
Pictured:
Separation Anxiety
Alder wood, carved and stained with attached seed pod
Two detachable pieces, 6.5 in. x 12 in. x 1.75 in.
2015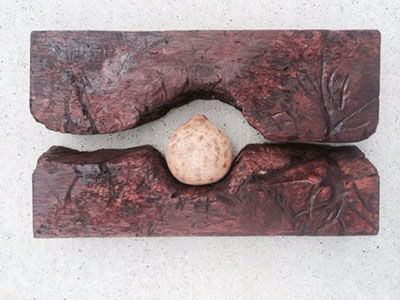 ---
Deborah Sullivan lives in Alameda and has been making large clay totems for more than 20 years. A record of her journeys and travels, the totems in this show are a reflection of her experiences as seen through the lenses of feminism and middle-class identity. In the last few years, she has designed a line of glassware and abstract ink paintings. View more of her work online at
www.deborahsullivanart.com
.
Pictured:
She Can Hold Up the Moon Too
Clay (over cement and steel armiture)
60 in. x 10 in. x 10 in.
2014

---
Jerome Szymczak is an Alameda-based photographer and travel writer who has long been fascinated by the drama and narrative of black-and-white photography. He is intrigued by the notion of amplifying the "story" within each photograph by adding and layering materials not usually stored in the darkroom, such as chalk, watercolors, and pastels.
Pictured:
Cherbourg Window I (Winter)
B&W archival print shot with 35mm Ilford film
23 in. x 24 in.
2014