Tuesday, October 20, 2015
Photography by Thea Bellos, Maurice Ramirez, Jerome Szymczak & Dr. Edward Valeau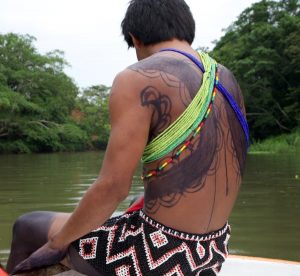 Thea Bellos, Emberá River Guide, Panama, 2012. Courtesy the artist.
Second Friday Opening Reception: September 9, 6 pm–9 pm
Exhibition Dates: September 9-November 4, 2016
Where: K Gallery at Rhythmix Cultural Works, 2513 Blanding Ave., Alameda
Cost: Free
Info:
email
or 510 865-5060
In the digitally shrinking world what does it truly mean to be "distant?" Are there still doors, villages, or communities that are closed to outside view? The K Gallery at Rhythmix Cultural Works presents 'Round the World, a group photo exhibition exploring images of people and place across the globe. Through the lens these artists capture the duality of being both indigenous and modern. What does contemporary life look like in a developing country, or an ancestral homeland? How are the everyday occurrences of work, childhood, and celebration different in Africa, India, Vietnam, Turkey, or South America? This exhibition brings an intimate view of parents, craftspeople, musicians, and children around the world to our gallery walls in Alameda closing a cross continental gap in both physical distance and perceived difference.
About the Artists
Thea Bellos is an avid traveler, storyteller and adventurer, who has chosen photography as her medium to tell her story and document the beauty and challenges facing the natural and built environment across the globe. Her images also pay tribute to people who have struggled with and triumphed over adversity, war, religious intolerance, environmental destruction and personal challenges so that their stories may also be told. With the mystery and uncertainty we all face, she finds expression through these glances and the "decisive moment" that Henri Cartier-Bresson impressed upon her, early in her career, through his influential body of work.
Her photographs have been exhibited at venues throughout the Bay Area including, CPMC's Institute of Health and Healing, La Pena Cultural Center, Berkeley Public Library, The Mechanics Institute and Alta Bates Hospital. She received an award for her Cuba Series from the International Photography Awards. Bellos also participates annually in Pro Arts' and Berkeley Artisans' Open Studios at her studio in Berkeley.
---
Maurice Ramirez is a working photographer for commercial clients, but his core interests have always been people and their personal, artistic, and cultural expressions.
Maurice started in 1999 with editorial shoots for print and online publications and websites such as Fortune, MTV, and Rolling Stone. In 2005, Nina Zamora joined as Studio Producer and they transitioned to wedding and portrait, and now advertising and video.
He studied Photojournalism and Humanities at San Francisco State University, took Eddie Adams and Foundation workshops, and continues it via professional associations APA, WPPI, and Fearless.
Nina and Maurice married in 2012, had their son Everest in 2015, and today live and work from a loft in a unique artist community in Alameda centered around a non-profit cultural art event space, Rhythmix Cultural Works.
---
Jerome Szymczak is a photographer and travel writer whose background is as varied and intriguing as his world wanderings. Based in Alameda California, Jerome's photos and articles have appeared in publications as far-reaching as National Geographic Traveler and The Athenian. "I've never been one for 'primary identifiers' — which is to say, I see elements of my travel writing, interior design endeavors, picture framing and charity work with children and families in my photographs. Perhaps being born in middle America in the mid-twentieth century had something to do with being pulled in so many directions … literally.
"Any point on the compass still promises adventure and photographic 'drawing with light' challenges. Every shot is an opportunity to find some common narrative, a shared humanity, in that tenuous thread that connects us as viewer, subject, and photographer. Sometimes, in that magic moment when I press the shutter, I feel like all three at once."
Dr. Edward Valeau is a photographer, entrepreneur, former college CEO, English teacher, Fulbright Scholar (India and Nepal) American Council on Education Fellow, and the Harry Buttimer Leadership Award given annually to an Outstanding California Community College CEO. As an international traveler and scholar, he is the author and co-author of several books and chapters on international education that is highly referenced and used in various colleges and universities nationally and internationally.
Based in San Francisco Bay Area, Ed is has travelled around the globe to capture images that reflect natures' beauty, the human Diaspora defined by cultural connections, mans construction, splendors of wildlife and landscapes. Ed's photographic portfolio reflects the four corners of the globe. Each of his photographs invites the viewer to reflect on the energy and rhythms of all life that inhabits the planet. Ed constantly strives to capture images that educate, inspire, motivate and cause reflection. As an educator and humanitarian, Dr. Valeau believes that it is his responsibility to "help those who are helping others." Thus a portion of the proceeds generated from sales will be donated to selected nonprofit foundations and organizations serving the world.