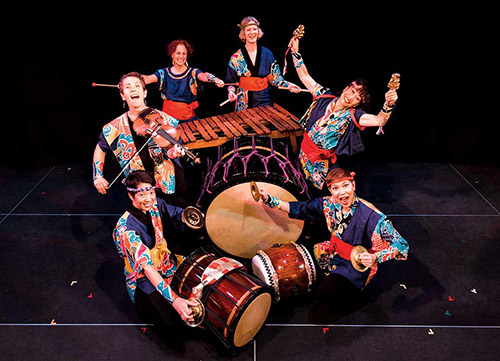 In Japanese, the word mazeru means "to mix," daiko the word for drum. Maze Daiko is a world music ensemble that continues to evolve by mixing Japanese taiko with West African drums and marimba, and European violin, creating an innovative sound. Seiichi Tanka, the father of North American taiko, has described Maze as pioneers of the art form. Artistic director, Janet Koike trained with San Francisco Taiko Dojo, and was part of San Jose Taiko's artistic team. The members of Maze Daiko include Kathryn Cabunoc, Tina Blaine (aka bean), Carolyn West, and Elaine Fong have many collective years of experience in taiko or musical groups including Emeryville Taiko, D'CuCKOO and Rhythmix ensemble. This mix of musicians combined with Maze Daiko's newest member, violinist Jeannie Mckenzie, create original music with a unique cultural style. In 2008, Maze worked with First Voice (Brenda Wong Aoki and Mark Izu) to create "the Legend of Morning Glory" combining kabuki story, jazz, and taiko. Maze was a featured at the 2015 North American Taiko Conference and has collaborated in concert with Kodo Artists, Yoko Fujimoto, Chieko Kojima and Kaoru Watanabe, Ensohza Minyoshu, First Voice (Mark Izu and Brenda Wong Aoki) and On Ensemble. In 2016 Maze created and performed the music for multi-disciplinary site specific art event, Island City Waterways.
Upcoming Shows
Sat & Sun, May 19 & 20, 2018 | Island City Waterways 2018 | Alameda, CA
Past Shows
Sat, Sept. 27th, 2014, 11:30am | Oakland Percussion Festival | East Bay Church, Oakland, CA
Fri and Sat, Nov. 14th and 15th, 2014, 8pm | Island Arts Concert in collaboration with ON Ensemble | Rhythmix Cultural Works, 2513 Blanding Ave, Alameda, CA
Sat, June 13, 2015, 8pm | North American Taiko Conference Taiko Jam Las Vegas | Artemus W. Ham Concert Hall, UNLV, Las Vegas, NV
Sat, Aug. 22nd, 2015 | Wine, Women & Song | Rhythmix Cultural Works, Alameda, CA
Sat, Sept. 19th, 2015 | Percussion Now! | Rhythmix Cultural Works, Alameda, CA
Sat & Sun, October 21st and 22nd, 2017, 11am to 2:45pm | SF Trolly Dances | Additional info | 1453 Mission St., San Francisco, CA
Sat, November 11th, 2017, 8pm | Maze 10th Anniversary Concert with guest artists Gamelan Sekar Jaya | Rhythmix Cultural Works, Alameda, CA
Press
Taiko Band Represents in Las Vegas. Alameda Sun. By Chris Ringewald.
Where Rhythm, Movement and Culture Meet. Alameda Magazine. By Wanda Hennig.
Arts and rhythm: Q&A with taiko drummer Janet Koike. San Jose Mecury News. By Chuck Barney.
Tina Blaine Inspires Dance and Drumming at Rhythmix. Alameda Magazine. By Lee Hildebrand.