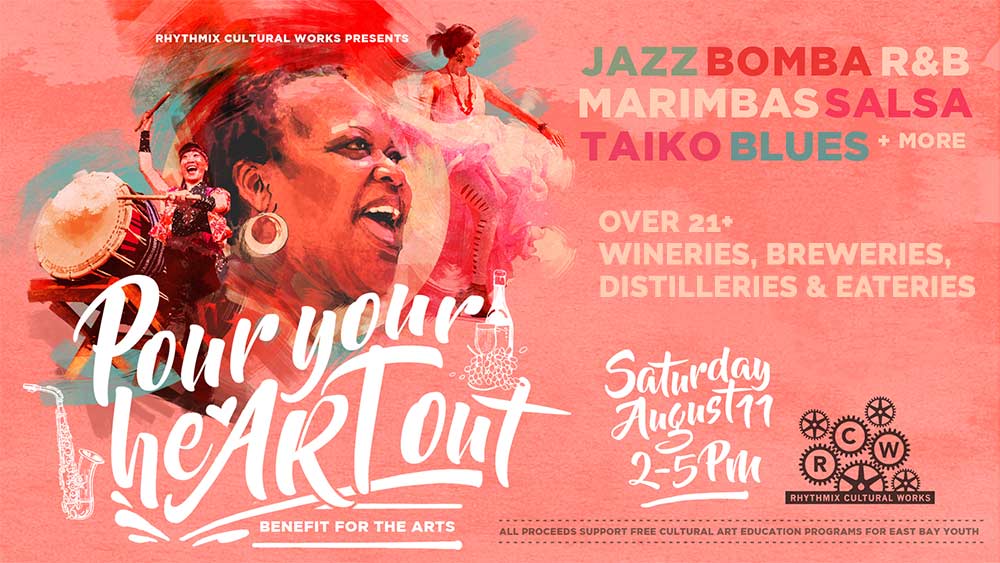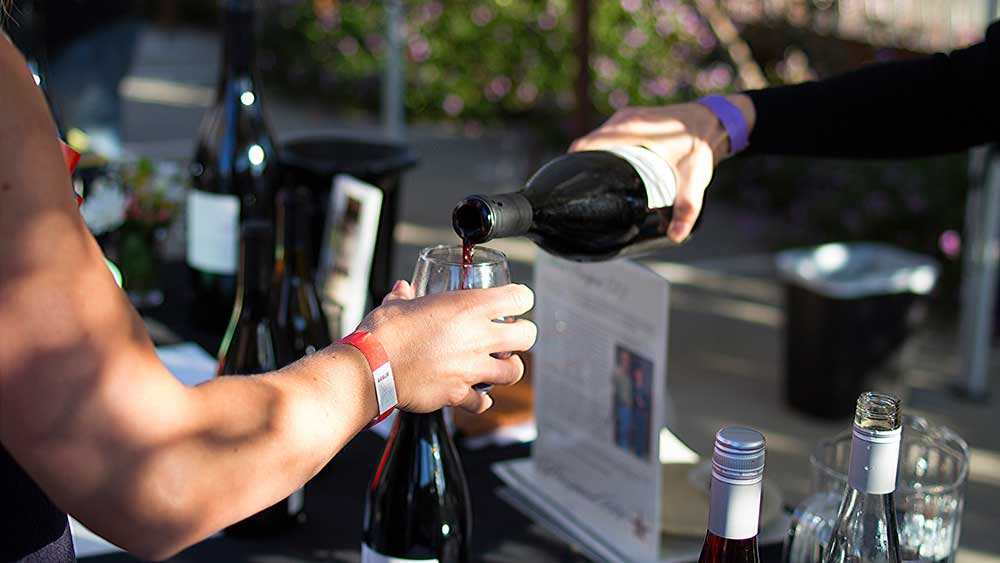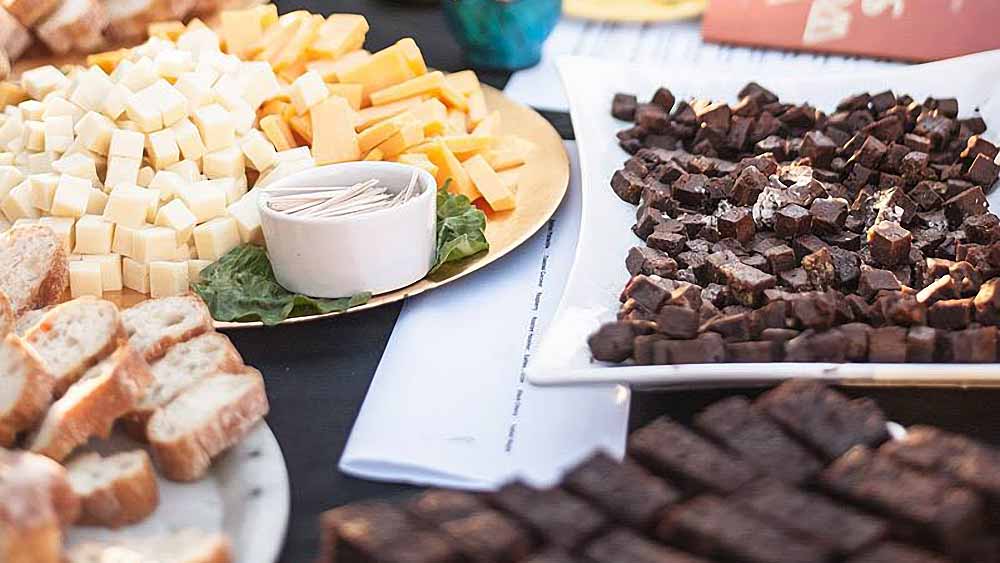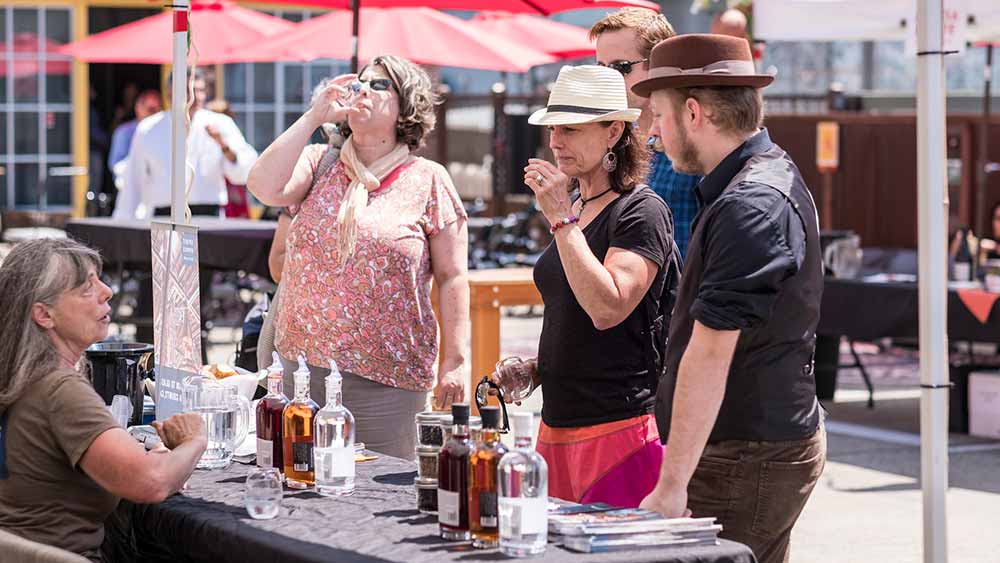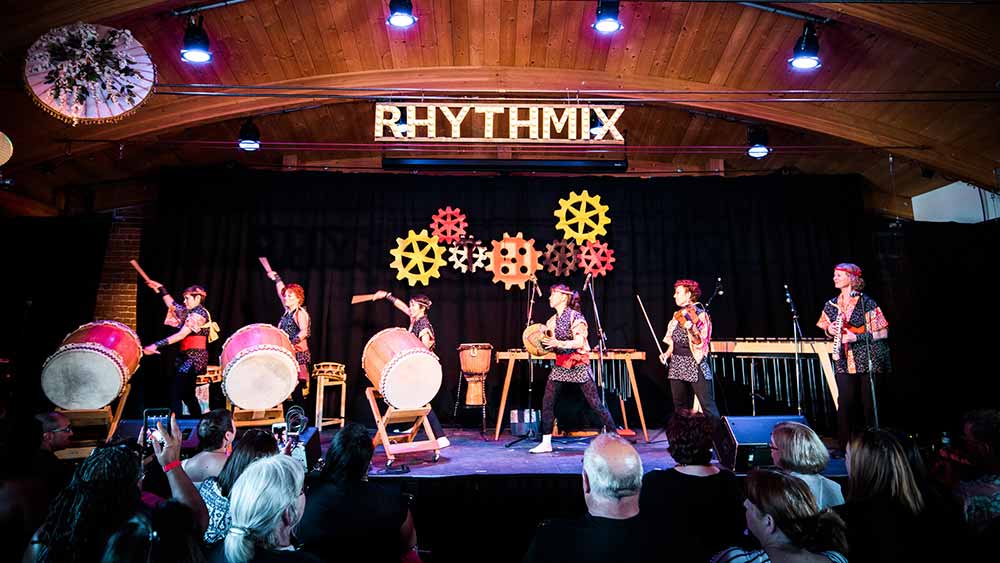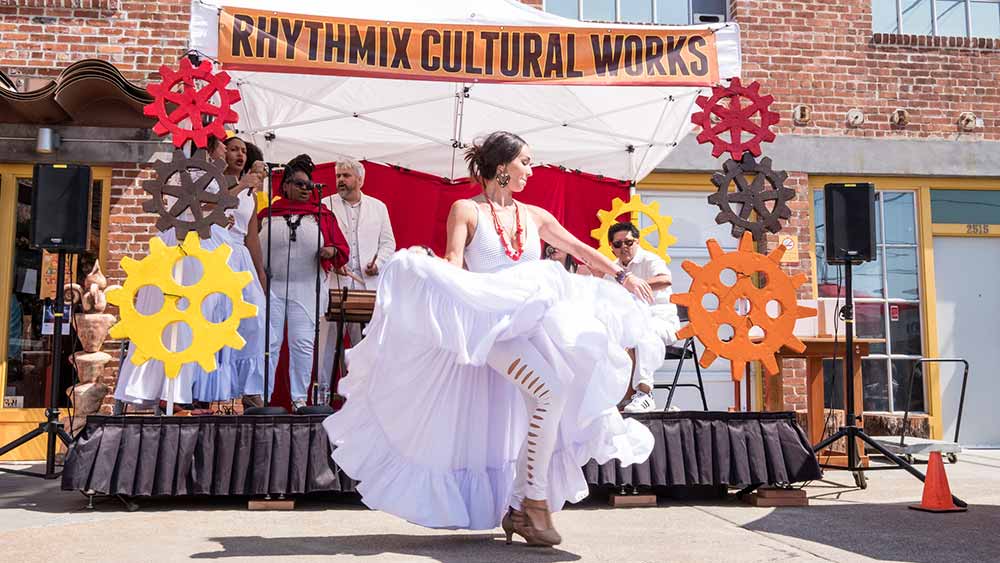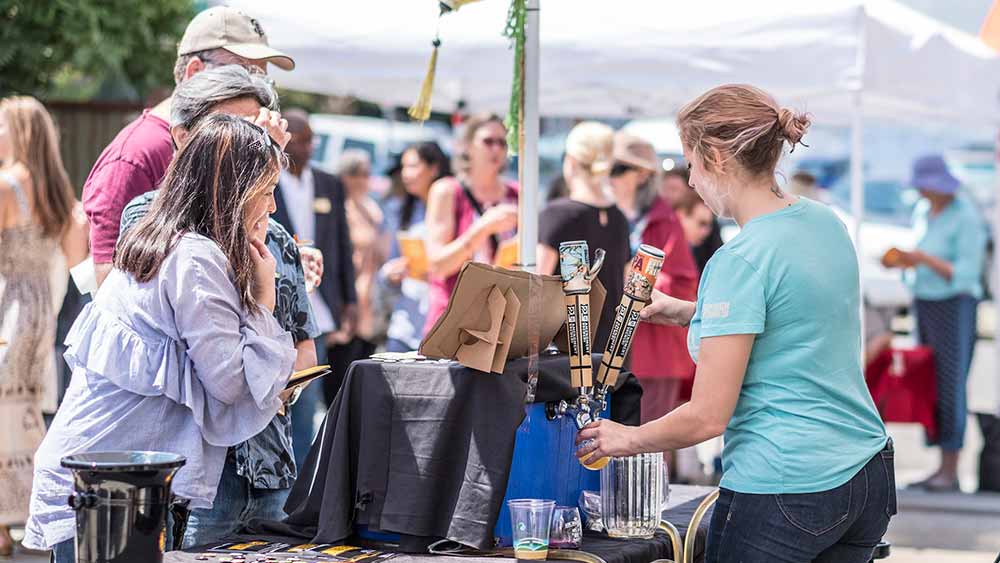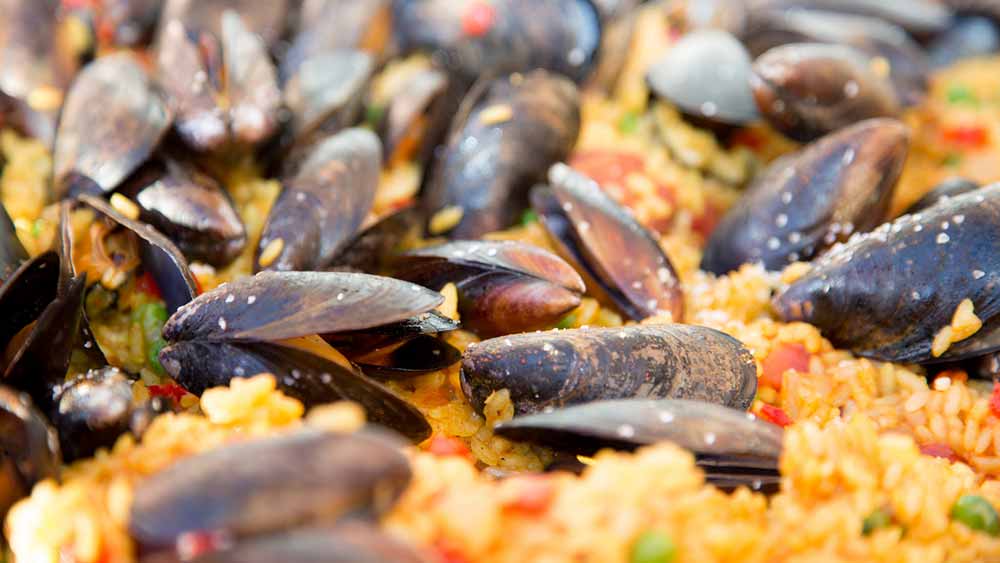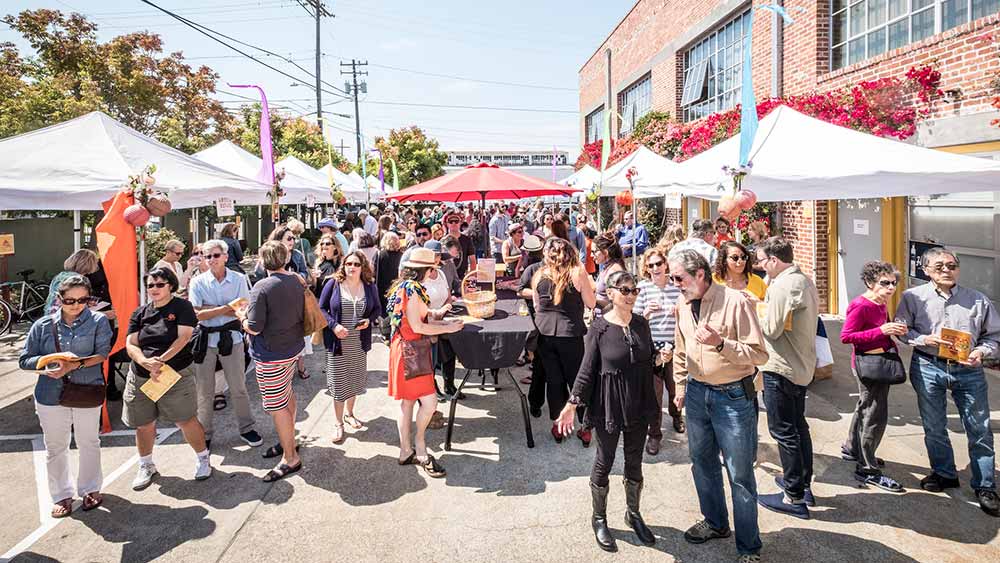 On Saturday, August 11 from 2 pm to 5 pm, Rhythmix Cultural Works presents its Pour Your heART Out Benefit for the Arts Celebration (formerly Wine, Women and Song) at its beautifully renovated industrial performing arts space. Featuring live music, local food, and craft beverages, all proceeds from the event support free cultural arts education programs for youth in Alameda and Oakland.
"We envision Pour Your heART Out Benefit for the Arts as a festive way to bring people together to experience the thriving arts community that has blossomed in Alameda and the East Bay," says Rhythmix Executive Director Tina Blaine, aka bean. "We have an incredible lineup of some of our region's most talented women from the arts world, as well as the food and craft beverage industries all under one roof, for a great cause. Literally thousands of schoolchildren will get to experience a live cultural performance firsthand with help from the proceeds of this event."

---
MUSIC & ENTERTAINMENT
Click each performer for more info.
The festivities will spotlight women winemakers, brewers, distillers, musicians, and performers, showcasing the dynamic blues and jazz vocalist Rhonda Benin with The Lillian Armstrong Tribute Band, taiko fusion ensemble Maze Daiko, Salsa Lab dancers, Taller Bombalele (Puerto Rican music and dance) and Tiare Tahiti (Tahitian dance). Miss Benin's ensemble features Sundra Manning on piano, Ruth Price on drums, Ruth Davies on bass and Kristen Strom on saxophone.
---
PARTICIPATING CRAFT BEVERAGE SPONSORS
Amidst the entertainment, attendees will enjoy premier wine, beer, spirits and food tastings in the Rhythmix theater and courtyard, a silent auction and wine raffle, and a panel discussion on women in the craft beverage industry.
PARTICIPATING RESTAURANTS
---
CRAFT BEVERAGE PANELISTS
Click each panelist for more info.
Our panel is moderated by Deborah Parker Wong, DWSET, educator, journalist and author who specializes in the wine and spirits industries and is the Global Wine editor for The Tasting Panel, SOMM Journal and Clever Root magazines. Panelists include: Absinthia founder, J. Absinthia Vermut, Cleophus Quealy brewer, Jessica Clare and Picket Fence Winery/Plata Wine Partners winemaker, Alison Crowe.
"With grapes and grain as their medium, these women are passionate creators who use fermentation and distillation to create liquid art." Deborah Parker Wong, DWSET Global Wine Editor
---
ART INSTALLATION
While attendees enjoy specialty wines, beer, spirits and culinary delights, the Wayside exhibition showcasing the work of Ginny Parsons and Palestinian artist, Najib Joe Hakim will be on view in the K Gallery.
---
ABOUT RHYTHMIX'S YOUTH ARTS EDUCATION PROGRAM
Serving more than 10,000 students in six years, Rhythmix's Performance, Art & Learning (PAL) program is offered at no cost to schools in Alameda and Oakland. Developed in 2012 in collaboration with the Alameda Unified School District, PAL is a youth arts education program that fosters awareness of world cultures and empowers underserved youth through exposure to educational music and dance assemblies.
By design, PAL presents a cross-section of music and dance traditions from cultures around the world, performed by artists of the highest caliber. The program inspires some students to want to get more deeply involved in the arts and validates others who see themselves reflected in the cultural traditions being performed. Still others develop curiosity about people and places they may not have known about before.

---
MEDIA
PRESS
East Bay Times, August 9, 2017. Rhythmix's celebrating 10th anniversary with gala honoring women, art, wine. By Sarah Tan.
Alameda Sun, August 18, 2016. Rhythmix Fetes Females. By Sun Staff Reports.
Alameda and Oakland Magazine, October, 2015. Winning Wine, Women, and Song in Alameda.
Alameda Sun, August 13, 2015. Honoring Local Women Artists. By Sun Staff Reports.
---
THANKS TO OUR SPONSORS FOR THEIR GENEROUS SUPPORT
Arts Angel

Mover & Shaker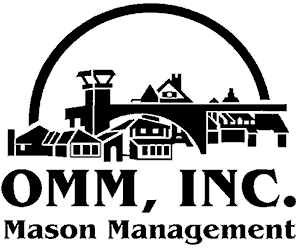 Impresarios
Visionary
Innovator
Activator
Media
---
For more info about our previous benefits, visit the past benefits page.